First impressions are everything.
We all know this from experience; every interaction with someone new is another chance to impress. And one of the most important times to worry about first impressions is during a face-to-face job interview.
As recruiters know, candidates always have questions about what to wear to interviews–which is valid because most of us question what we're going to wear every morning before work. Since you want your candidates to blow the competition out of the water, you have to make sure that their first impression goes impeccably. It's a truism that people judge a book by its cover (unfortunately). So what's more enticing than a book with a chic cover?
It's up to you to help your candidates cop the perfect jawns! If they ask, "What do I wear to the interview?", don't just use vague terms like "business casual" or "professional." Describe the type of employee your client is looking for and help them craft the perfect look based on the role they're applying for and your client's culture.
If you're not a fashion aficionado–or you don't walk around pretending you're in Sex and the City–this might sound a little challenging, so we put together a guide to help.
For A Creative Role
If you're recruiting for a more creative role, your candidates get to have a little more fun with their fits. Help your candidate show their creativity immediately with simple style choices like pops of color, prints (but not out of control), and more fashion-forward pieces. Some examples: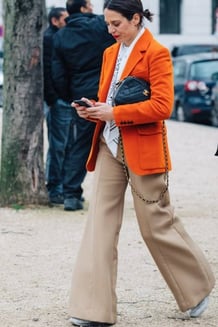 For A Tech Role
Like we discussed before, business casual became normalized by Silicon Valley. So, for most tech interviews, business casual is acceptable. Tell your candidates to wear chinos or slacks, a button-down shirt, sweater, or blouse, and sporty dress shoes or flats. Depending on the level of the job, a blazer might be necessary, but you can use your own judgment on that.
For A Health Care Role
What to wear to a health care interview is a lot like the other professions. Sure, once in the field, clothing really doesn't matter as most will be wearing scrubs, but you have to nail the interview first to get those perks. Your candidates should wear a suit and tie–or at least trousers and a button-down with a tie–or a sleek dress or skirt, blouse, and blazer combo. Although these are dressier, there's still opportunity for candidates to add their own flare to stand out.
For A Business Role
Two words: Power Suit. The business world is tough and judgy and hard to get into. And even if you haven't been in the business world, showing up in a power suit will make it look like you're already running a Fortune 500 company. A power suit is just as it sounds–after all, it is a suit–but it's all about how your candidate can style it and feel confident in it. Here are some perfect examples for women and men.
Regardless of the role, you can't go wrong with the basics like slacks, a button-down, a dress, skirt, or suit. Sure, the candidate may not get extra points for showing up supercool, but it's not going to hurt their chances either. Just make sure to avoid vague and confusing language, not everyone has the same idea of what is professional and what isn't.
If you still need more help, here are some great ideas for female and male candidates!