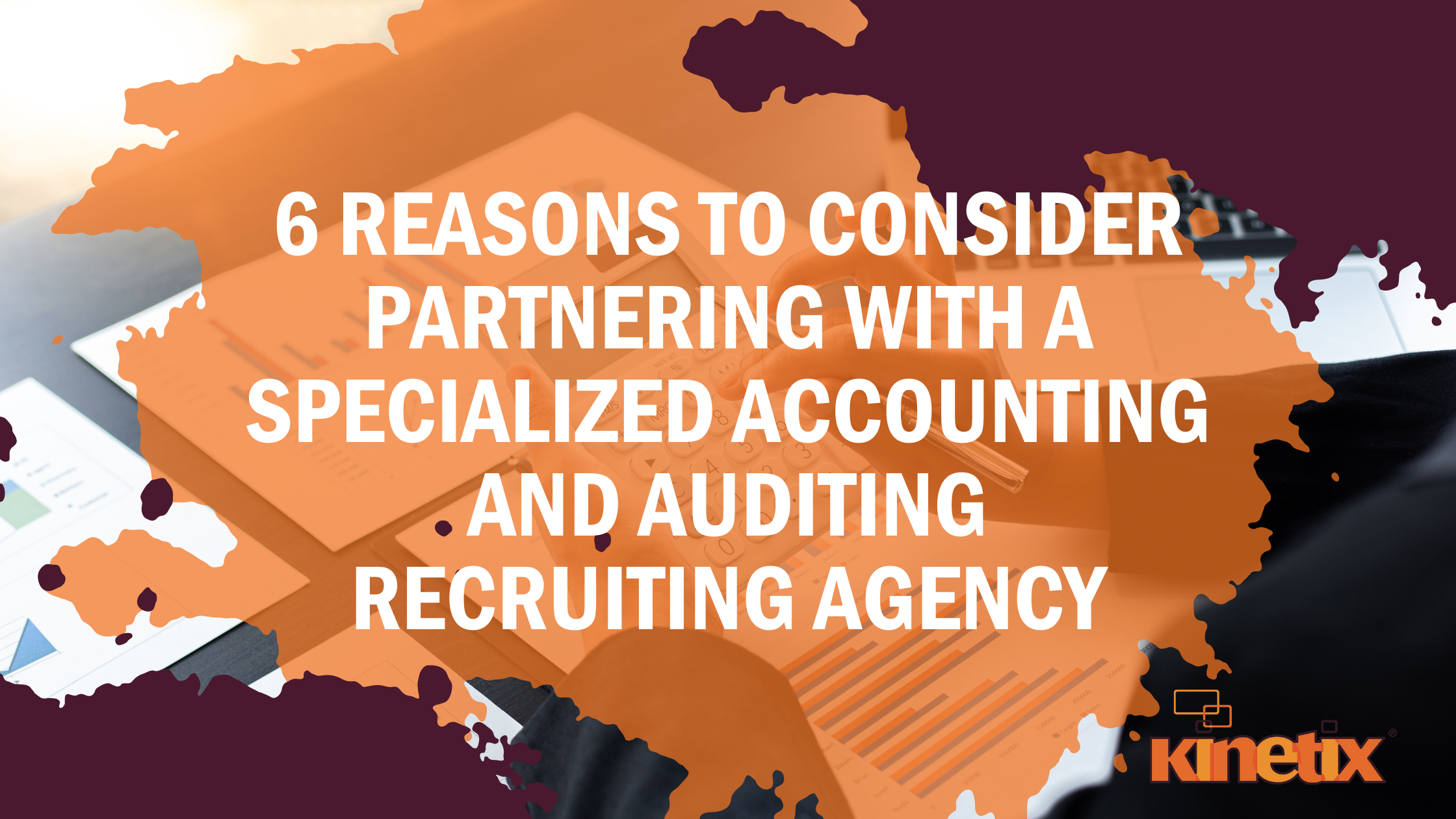 You don't need us to tell you that the 2022 recruiting environment is challenging.
You need to step up your game if you want to hire top talent in the accounting and auditing field. Recruiting for competitive skills requires you to stay up to date with the latest accounting and auditing trends while leveraging new recruiting technologies and strategies.
The finance industry has been going through significant changes recently. Additionally, the market for qualified accountants and auditors remains exceptionally competitive. The Bureau of Labor and Statistics anticipates that between 2020 and 2030, the employment rate for accountants and auditors will increase by 7%.
Finding top talent in the accounting industry has been and remains challenging. Many organizations are partnering with specialty accounting staffing agencies, like Kinetix, to overcome hiring challenges. Partnering with Kinetix can help you recruit top talent for accounting and auditing in several ways.
The Benefits of Working with Accounting Staffing Agencies
1. Accounting expertise
Accounting staffing agencies specialize in placing employees in accounting and auditing positions with the skills, knowledge, and experience to match candidates with vacant positions. An in-depth understanding of the accounting and auditing functions of staffing agencies can help ensure that only qualified and suitable candidates are presented for consideration.
Experienced accounting recruiters will have a deep Rolodex of candidates they've already begun to vet and build relationships with, saving your organization time and money - resources every company could use more of.
2. Simplify the hiring process
Each corporate job attracts 250 resumes, subject to a time-consuming review process. Before the hiring manager even gets involved, a company's human resource department often conducts pre-screening, a series of initial interviews, and reference checks. Kinetix can relieve a company of this time-consuming and resource-intensive burden by conducting resume reviews, pre-screening calls, and initial interviews before sending resumes to hiring managers.
3. Trial period
Staffing agencies with a focus in accounting and auditing can send candidates on a trial or contract basis. This allows the company and the candidate to test whether the job is a good fit before deciding on a permanent placement. At the end of the trial, the employer can make a job offer or select another candidate who may better fit the company or the role.
4. Reach Alternative candidates
Specialized agencies will have access to a deeper pool of qualified candidates that may be out of the reach of corporate recruiters. Staffing agencies maintain a large population of candidates, filled with those actively looking for work and passive candidates waiting for the ideal opportunity to arise.
5. Quality control
Businesses can be overwhelmed by the number of applications they receive. It takes time and resources to wade through them all. Typically, only a tiny percentage of the applicants will be a good client fit. Using a recruitment agency increases your ability to engage with high-quality candidates without drudgery. For example, at Kinetix, we have processes in place to ensure all our candidates have the necessary background checks, references, licenses, qualifications, certifications, and experience to hit the ground running.
6. Cost savings
The short-term cost savings of partnering with an agency are associated with managing the recruitment process. This includes more than the cost of advertising, but the impact on internal recruitment teams, that continue with their regular duties without managing a recruitment campaign. Partnering with a recruitment agency also reduces the likelihood of hiring an unfit candidate for the job.
The long-term cost savings include reducing the cost of training a new employee. We will acquire candidates who already have all the skills needed for the position. In addition, you will be able to reduce future recruitment costs through an established partnership with Kinetix consultants, who will now have a clear understanding of your business.
Businesses seeking to find and attract qualified candidates in a challenging candidate-driven job market can significantly benefit from partnering with expert specialized accounting and auditing staffing agencies. Kinetix specializes in helping businesses fill accounting and auditing positions with pre-screened, qualified candidates that fit with company culture.