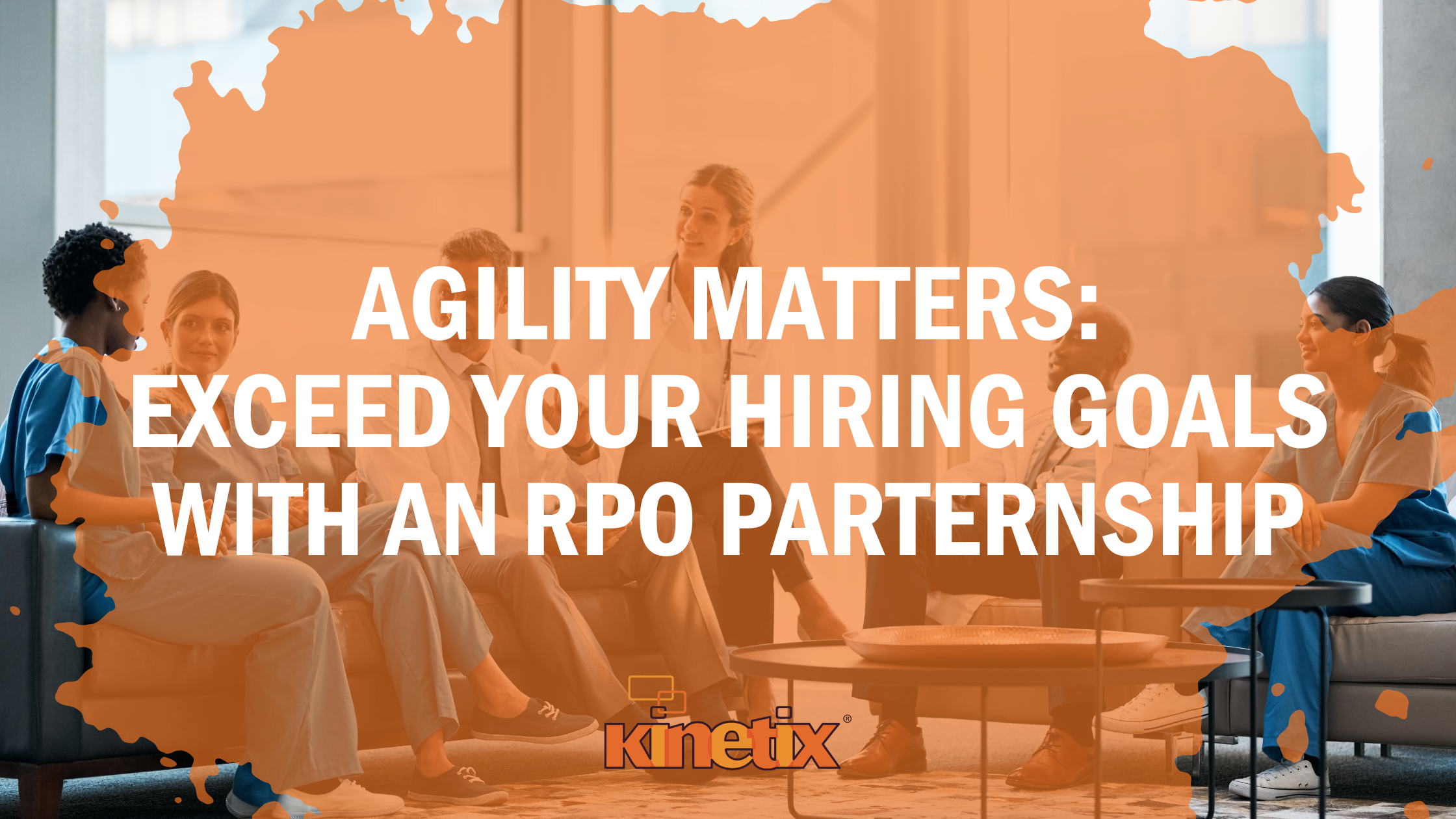 When your company is facing a high number of open positions, what can you do?
That's what one of Kinetix's healthcare clients had to tackle. Their systems consist of 4 hospitals, 6 urgent care locations, 110+ doctor offices, imaging centers, cancer treatment centers, laboratories and more. At one point, they had thousands of open requisitions. According to the United States Department of Labor, the RN workforce need is expected to grow 16% by 2024. In addition, according to the American Association of Colleges of Nursing, the current nursing school system in the U.S. doesn't have the capacity to fill that gap with new nurses. The Association of American Medical Colleges says there isn't just a nursing shortage, but a physician shortage as well. This shortage is expected to increase over the next few years.
The Situation
The internal team was drowning in 1,200+ open requisitions, so Kinetix stepped in as an extension of their team. We worked with the internal team and their hiring managers, acting on the client's behalf to get candidates in their funnel ASAP. Kinetix set up the launch timeline and outlined estimated goals for us to meet over the first 4 months of the partnership. We estimated 445 jobs could be filled by Kinetix.
What We Did
Our solution focused on 3 core areas: dedicated account managers, agility and speed, and frequent communication.

Dedicated account managers: Like most operational outsourcing, a common roadblock can be hesitance of change. Our goal is to prove our dedication to YOUR success. Kinetix has dedicated Account Managers that work with your team.

Agility and speed: When hurdles came up, our talented recruiters were coming up with ways to reach candidates through round robin interviews outside of typical business hours. They also consistently communicated progress and schedules with the internal team and the hiring leaders.

Frequent communication: We immediately joined our client's HR huddle and added in our own weekly reports. We also scheduled additional meetings weekly or biweekly to maintain consistent communication with hiring leaders. The additional dashboards and constant information sharing led to a strong relationship.
The Results
After an original goal of filling 445 jobs, Kinetix surpassed that goal by filling 535 roles for the new client in 4 months. Teamwork makes the dream work. You've heard the phrase a million times. We're the team that makes those hiring dreams happen. We can hire faster than you can grow. It's what we do.
Interested in seeing these kinds of results for your own team? Let's talk.