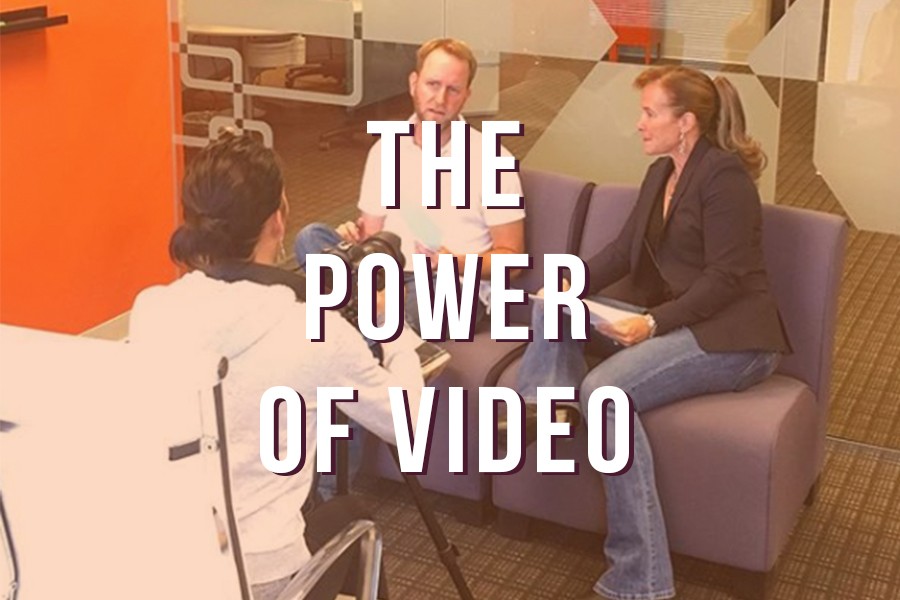 Recruiting is at the core of what Kinetix does. Our clients task us with finding the ideal employees to join their companies. It's up to us to evaluate resumes, make contact with candidates and set them up with interviews. However, this method mostly relies on the candidate reaching out to us in response to a job posting. Kinetix is well aware we're in a society that has been increasingly utilizing multimedia to benefit their brands. That's why we use video to not only drive recruitment, but to also help our clients develop their public image.
How Do We Do It?
All of our video shoots are done on location. We visit our clients at their place of employment. Doing this brings an undeniable sense of authenticity to our videos. Through prior (and sometimes on the spot) planning, we're able to secure recording locations that are aesthetically pleasing to the eye.
The videos we produce are done in an interview style. We partner with our client's HR teams to identify and schedule the employees to be interviewed. We at Kinetix develop the questions in partnership with our clients that are designed to convey a realistic image of what it's like to work within that organization.
At the end of the day, authenticity is key. We don't use scripts and we don't use actors. We feature real employees who share their honest opinions.
Why Do We Do It?
We feel that producing videos for our clients makes them more attractive to potential candidates. Job seekers typically want to know as much about an organization as possible before they apply. Our videos give them access to parts of the workplace they otherwise would never see. In some cases, they may even watch a video in which their potential boss is featured. I can say from experience that these videos create a sense of unity. I've watched and edited many videos Kinetix shot before I came aboard. When I go on shoots now, I see many of the same people. It's a little strange, but I feel like I know them. I feel more comfortable around them.
Where Do the Videos Go?
Although it can be different from client to client, most of the videos we produce are placed on the company's respective career websites. We'll put videos that are specific to a particular job title on a page where it's most relevant. We can also leverage the videos by putting them on the client's social media pages. We like to keep most videos to a comfortable length just for this purpose. Honestly, the sky's the limit. Our videos can be used for email campaigns, on-boarding packages, orientation presentations and plenty more.
Companies tend to be faceless entities to the general public. By utilizing video, we're able to provide a human face to organizations. It makes them more relatable, more approachable and increases their chances of finding the right candidate.