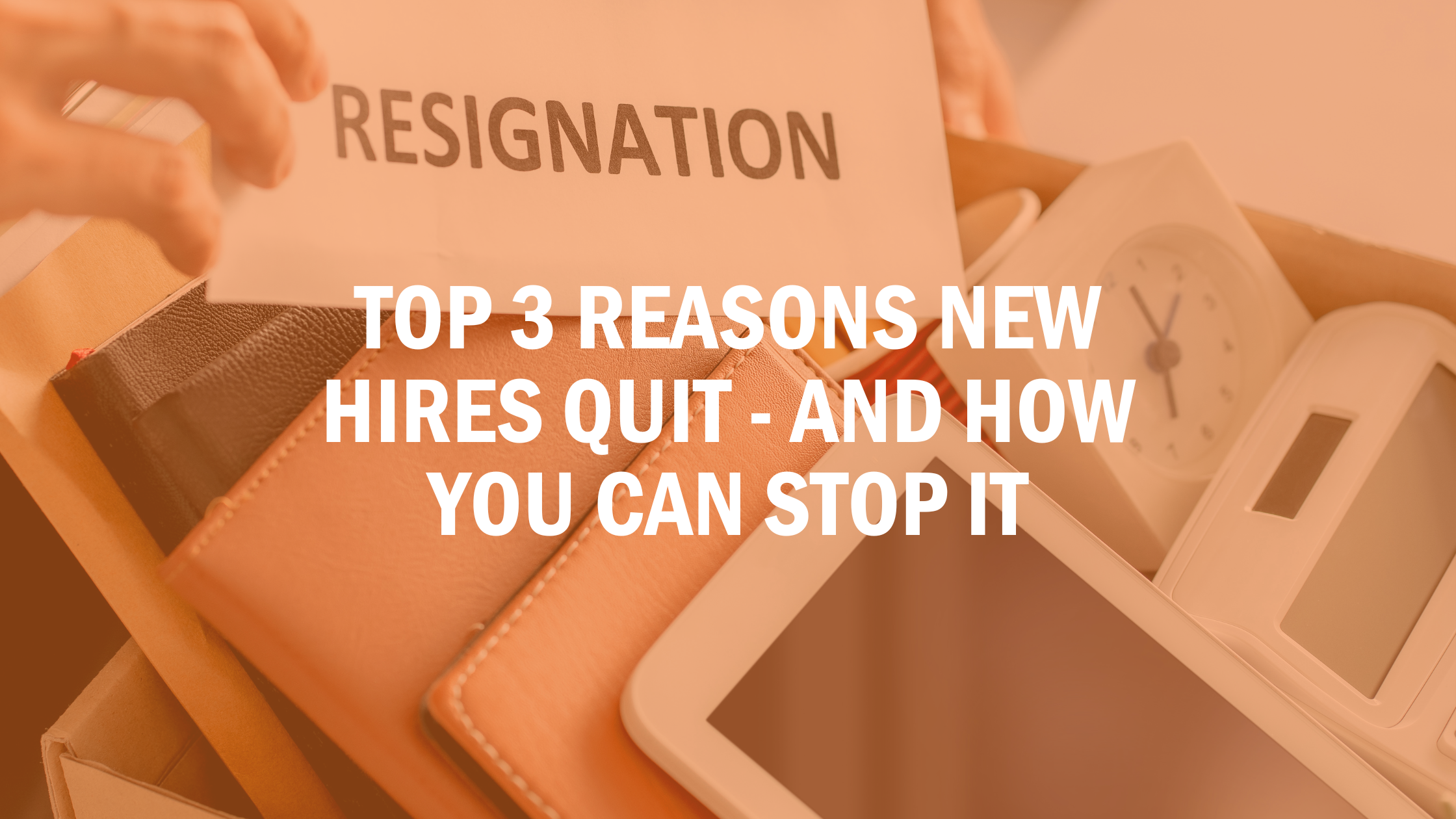 While some new hires are destined to leave, there's a lot that employers can do to ensure top talent stays in it for the long haul.
It's not a new trend; many new hires quit their jobs quickly. According to the latest employee turnover statistics, one-third of new employees quit after six months. Hiring and training new employees is costly and time-consuming, making it critical for employers to keep them excited and engaged or risk losing top talent and starting the hiring process over.
What's the solution?
A formal onboarding process, and

Focusing on employee experience
Onboarding
Over one-third of companies do not have a structured onboarding process. Getting your new hires started on the right foot requires more than offering an office tour and sending them on their way. Giving employees the best chance at success with your organization requires thorough onboarding.
Starting a new job is exciting… and stressful. New hires experience anxiety and uncertainty about meeting new colleagues, learning new processes, and understanding how to make an impact in their new role. According to Malysa O'Connor, senior director of HR and Payroll at Kronos, capturing that enthusiasm while minimizing challenges will give your organization a competitive advantage.
Onboarding best practices
Preboard new hires
Start the onboarding experience before their first day to get them excited. Send company merch, encourage questions, and send an onboarding, so they know what to expect.
Complete paperwork ASAP
If possible, allow your new hires to start administrative tasks before their first day.
Involve team members in the onboarding process
Effective onboarding should be a collective effort involving the new hire's team members.
Assign a buddy to shadow
Pair new hires with a buddy they can turn to for questions and concerns.
Also, schedule a time for the new hire to shadow various employees. Introducing new employees to different departments will better equip them to perform their jobs while introducing them to new people.
Introduce Work Gradually
To increase your new hire's confidence, gradually increase their responsibilities. If your new employee is progressing well, slowly increase each task's responsibility level.
Check In Regularly
Onboarding shouldn't end once your new hirer has filled out their paperwork. Check-ins are an opportunity to sit down with employees to make sure they're comfortable and have the resources needed to perform their job. Acknowledge the employee's contributions and ask them if they need additional training or support. Regular check-ins could be the difference between a long-term employee and one who quits.
Evaluate your onboarding process
Your onboarding process is not unchangeable. You'll likely modify it from time to time. See feedback from your employees through surveys or conversations to know what you're doing well and where you can improve. Continue to enhance your onboarding, and don't be afraid to revamp your process as your company evolves.
Focusing on employee experience
Offer career development programs
Employees are more likely to stay if they know there's room for career advancement. By training your next set of leaders, you create loyal employees who understand the investment you are making in them. Managers should have a development plan for their employees and discuss career goals annually. Employees can also be assigned a mentor to coach them and give feedback. This will increase employee engagement and increase your internal talent pool.
Implement stay interviews
While exit interviews are valuable, they don't keep an employee from leaving. Stay interviews are conversations between managers and employees that help employers determine what their employees value and avoid retention problems. These conversations should be an open dialogue with employees to collect their perspectives on their experiences. By understanding the employee, you can identify their motivation for staying and create goals that keep them onboard.
Increase the sense of belonging
People stay where they have a sense of belonging. And if pay increases aren't an option, you can always do something to help employees feel like they belong.
HR leaders can implement inclusion initiatives that help employees maintain their initial feeling of inclusion throughout their careers. Other programs HR leaders can implement are a mentorship program, employee resource groups, and scheduled management check-ins.
HR leaders should perform a regular pulse check on all of their initiatives to improve the employee experience. There is no finish line for this when it comes to employee experience. But when employees feel a sense of belonging, they rarely look for a new job, are more enthusiastic, have higher job satisfaction, and are more engaged.
While turnover may continue as the world adjusts to a post-pandemic phase, there are strategies your organization can adopt to retain your employees, especially your newest and most vulnerable employees. A little extra time and money spent on doing these things will save you from spending on turnover.
People are a business's most important resource, and our goal is to enable you to make decisions about candidates with access to curated recruitment insights.
If you want early access to the industries leading recruiters, please click here to begin your recruitment journey!