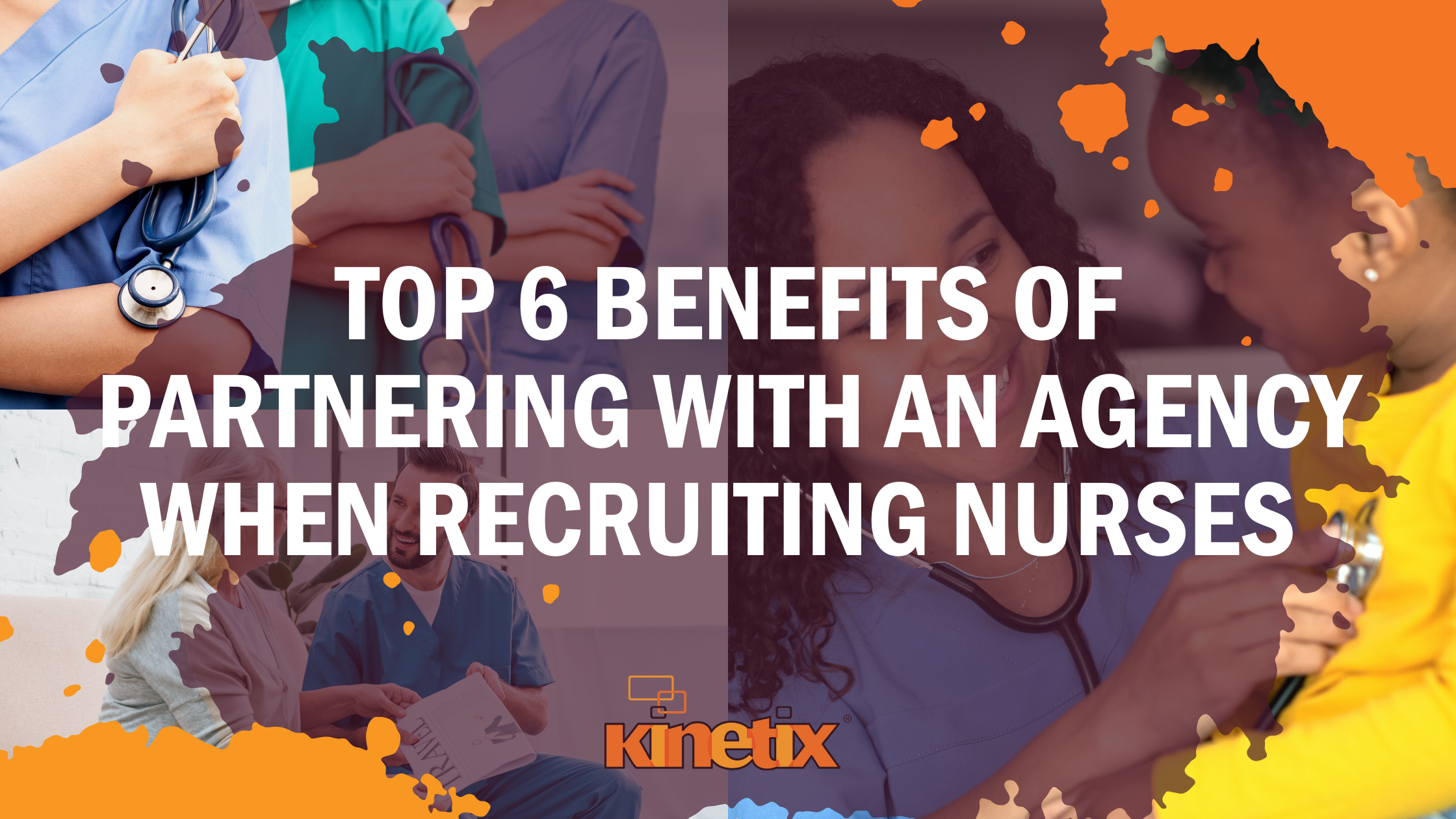 When it rains, it pours. At least, that's the way it seems when recruiting nurses.
Many hoped that nursing fatigue would ease once the pandemic subsided and we could start rebuilding our ranks. However, that doesn't seem to be the case. Almost two years after the lockdown and travel restrictions ended, the shortage is still plaguing hospitals.
Many healthcare providers are struggling to recruit and hire fast enough. And since experts expect the nursing demand to stay high or even increase through 2030, travel nurses have become integral to healthcare systems across the country.
Recruiting is challenging in any industry, but none more so than nursing. Hospital budgets around the country are stretched thin, making the stakes for hiring the right candidate even higher. Healthcare can't afford to make hiring mistakes. With current statistics revealing a growing demand for nurses, it's essential to understand why partnering with a recruitment agency is the right choice for your healthcare business.
This blog will discuss the top six benefits of working with a recruitment agency and how they can help you.
1. A broader network of talent
Some candidates are hard to find. And in a tight labor market, nurses can look for new positions passively and be selective when deciding to take a new placement. Recruitment agencies have a vast database of active candidates. Recruiters can contact highly skilled nurses who aren't openly seeking a new position but might be open to hearing about new opportunities.
A recruitment agency will advertise your nursing position on the most appropriate and relevant job boards and help promote your vacancy through social media. Additionally, recruitment agencies possess an elevated understanding of how to get your position highly ranked in online search results.
2. Saves time
If you are looking to fill your positions quickly, a recruitment agency can begin searching immediately. Recruitment agencies are experts in their field and have specialized tools to help them match candidates to your jobs. These specialized recruitment tools can match candidate skills and experience with your business's requirements. Recruitment agencies will use these tools to compile a list of qualified candidates for your consideration, decreasing the time it takes to fill your position and reducing the risk of hiring the wrong person.
And what's more, you'll only receive nursing applicants that have already been through a strict pre-screening process to ensure they fit your specific job requirements. This helps you save valuable time because you'll only review the best candidates.
3. Applicants as opposed to candidates
You might be asking yourself, "What's the difference?" However, there is a significant distinction in the context of time and effort. Applicants are job seekers who have "applied" for your job opening. Applicants have either sent a resume or filled out an application. It is not uncommon to have 300 applicants for a particular job opening.
Whereas candidates are applicants who have been thoroughly screened and are minimally qualified for your job opening. Candidates are contenders for the job and are ready to be interviewed about their qualifications. Out of an applicant pool of 300, you may only identify 15 candidates.
4. Market knowledge
Specialized recruiters have a depth of market knowledge surrounding your target candidates and can offer a consultative approach because they are specialists in your industry. Recruiters and agencies stay current on trends, qualifications, and industry standards. They can assist candidates and hiring managers in navigating the hiring process while giving insight. This expertise ensures that all groups are represented, handled, and receive the necessary information.
5. Brand ambassadors
What's better than free advertising? Businesses spend thousands, sometimes millions, annually on publicity, so why wouldn't you want free advertising? The most effective promotion is by word of mouth and recruiting agencies can be your biggest advocates.
Recruiters speak with hundreds of job seekers and market your company, brand, and culture to each of them. The praise for your brand will also be shared on Kinetix's LinkedIn and other social media channels. From a marketing perspective, this introduces your organization to a more significant number of candidates and customers.
6. Efficiency guaranteed
People are busy and sourcing talent is occasionally hurried, which can lead to the best candidate being missed. Entrusting the hiring process to a recruitment agency lets your staff focus on their job. Agencies can provide initial screening to remove unqualified candidates and guarantee that only the best resumes are delivered to you, making the process as productive as possible.
Outsourcing to a recruitment agency can help you recruit and retain the right people faster while reducing costs and turnover rates for your nursing recruitment efforts.
Want to learn more? Contact Kinetix for all your healthcare recruitment needs.