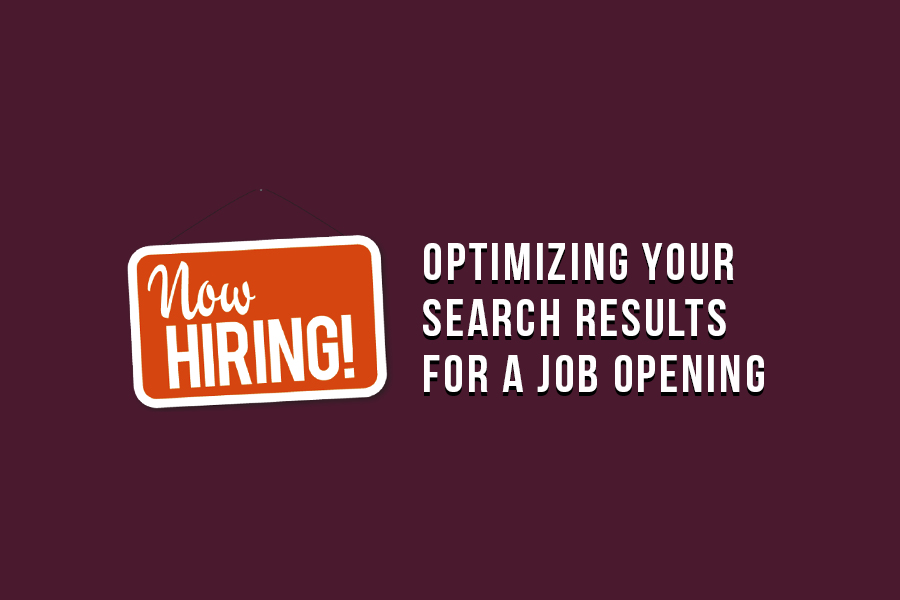 When it comes to your Career Site, Search Engine Optimization (SEO) is the name of the game, and if you aren't doing everything you can to maximize it, you aren't even a player. But never fear! We here at Kinetix know a thing or two about SEO as it relates to career sites and job postings, and we want to share a few of the more basic things we do to make sure our clients' job postings are "above the fold."
WHY SEO MATTERS
Getting "above the fold" in SEO means getting your page to show up in the top search results, before a user would need to scroll. Getting here, or on the first page of results at the very least, is essential for getting your jobs in front of potential candidates. To drive that point home:
93% of online experiences begin with a search engine
75% of people never scroll past the first page of search results
33% of search traffic goes to the #1 position in Google Search
See why SEO might be helpful for your job postings? Improving your Google rank is probably moving up your list of to-dos as you read this, and we have got a few tips to help you climb that ladder.
THE JOB POST: SPEAK TO THE CANDIDATE
The first place to start is the job post itself. SEO has changed over the years, becoming more and more sophisticated with every update to the almighty algorithm. Where "keyword dumping" used to be effective, it now pays to speak to a user with content they actually want to read. What do candidates want to see in a job post? Well, what a coincidence, we have a short list right here:
Concise, descriptive job titles
Bullet points for easily digested content
Location information
Company intro/info
Role description/responsibilities/skills & experience
Working hours, salary, and benefits
Some of this information is just getting down to brass tacks, but things like the company intro/info and role description are where you can really speak to your potential candidates. Figuring out your employer brand and leaning into it with this copy engages users and, in turn, search engines.
WHERE TO POST YOUR JOBS
Besides your applicant tracking system, where are you supposed to post your jobs? There are a lot of options out there, but generally sticking with the more trusted job sites will help improve your job posting's SEO. LinkedIn, Indeed, Monster, Dice – these big names are a good place to start. Posting your job on trusted sites helps improve your job's trust ranking with Google.
Google's algorithm is smart enough to know when a job post is a duplicate, even across multiple sites! It consolidates all these posts into a single search result and create an overall "trust score" which will impact its position in results. The more links to your post on trusted sites, the better this score. After determining the applicable job boards for our clients, we manage what posts show up on each one and how much money we put behind it to make sure we can maximize exposure and improve SEO for each post.
SOCIAL MEDIA MATTERS
The effort to build trusted links extends beyond posting the jobs on boards. Advertising on social media is a great way to build trusted backlinks for SEO and only serves to further increase exposure. We have some social media ninjas on our team that develop engaging copy and surgically hit the most likely candidates through frugally sponsored posts that are informed by data analytics; however, just getting your posts out there in the social media ethos is a great start. Facebook, LinkedIn, Twitter, Instagram, and even Pinterest will expose new, passive audiences to your jobs and build backlinks for your post that will improve its ranking on Google for those more active candidates.
BEYOND THE BASICS: SITE CONSTRUCTION & STRUCTURED DATA
What we offer to our clients at Kinetix goes a bit deeper than these first few steps that anyone can take on their own. First, we start with an entire site redesign based on employer value propositions and a reinvigorated employer brand. This site is the foundation of the improved SEO we are looking to build for job posts.
In a lot of organizations, online job postings are done through their applicant tracking system. This external career site, while serviceable, is generally on a different domain, poorly branded, and glaringly different in style than the homepage. Being on a different domain, any SEO you build for your career site is not applied to your job postings; needless to say, that is not ideal! What we do is pull the jobs out of the applicant tracking system, programmatically build branded pages, and create a feed of jobs baked right into the site itself.
Now, with the jobs living on the main career site domain, you can develop content built for job seekers that is constantly updated. Constantly updated content, like blog posts and videos, will improve the SEO of your career site. Then with content comes sharing – on social media, through email lists, on the internal employee network – anywhere you can expose this non-job-posting-content to help support your actual job posts will only help.
Once you have your site built as a hub for job posts and other content, there is one more step you can take to ensure Google thinks of you when someone looks for a job in your field: structured data. Structured data is basically like Google's cheat-sheet for your job postings and career site. We have gone the extra mile in researching ways to optimize this structured data for our clients through some more advanced data fields, but just putting in the basics will improve your post performance on Google almost immediately. You can find more information on structured data here and here.
Hopefully you walk away from this reading experience with an increased urgency to improve your job posting's SEO and a few actionable ways to make that happen. If you are feeling overwhelmed or just want to go all-the-way with SEO on your job posts, contact the Kinetix team and see what we can do for you, your career site, and your job posting SEO.